<script async src="//pagead2.googlesyndication.com/pagead/js/adsbygoogle.js"></script> <!-- Second Responsive Ad --> <ins class="adsbygoogle" style="display:block" data-ad-client="ca-pub-6051944540510504" data-ad-slot="7954014872" data-ad-format="auto"></ins> <script> (adsbygoogle = window.adsbygoogle || []).push({}); </script>
<script async src="//pagead2.googlesyndication.com/pagead/js/adsbygoogle.js"></script> <!-- Responsive ad code --> <ins class="adsbygoogle" style="display:block" data-ad-client="ca-pub-6051944540510504" data-ad-slot="6309158078" data-ad-format="auto"></ins> <script> (adsbygoogle = window.adsbygoogle || []).push({}); </script>
Acquiring great reviews on your Fiverr gigs is one of the best ways to tell prospects that you are good at what you do. Not only that it tells more about your competence, it is the primary factor that encourages buyers to purchase from you. If you're starting newly, getting people to buy from you can be extremely difficult due to the intense competition. So, for this reason, you may want to buy reviews to encourage prospects to buy from you.
Whether you're a new or an existing seller on Fiverr, you can buy reviews to boost your sales. To be frank and sincere, it is not a good thing to deceive people with fake reviews. However, if you're very confident about the services you render, you can legally buy reviews without people noticing it. I will explain the methodology in the next few paragraphs. Offer ridiculous bonus for your existing customers
Almost everyone likes whooping bonuses. If you have previous buyers who are excited about your service, you can offer them some unrestricted bonus just to acquire more reviews. Obviously, this method is 100% legal, and you'll also make money if they accept your offer. If you're in the graphics design niche, you can offer to make four designs instead of one. It sounds crazy, but it will greatly increase your sales and positive reviews. Legally buy Fiverr reviews with dummy account The easiest method to buy Fiverr reviews is to use a dummy account. The account should not be used to offer services on Fiverr, and it must not link back to other Fiverr accounts in any way. There are a couple of things you need to consider about account linking. Of course, people can spot relationship in Fiverr accounts in different ways. So, make sure you pay attention to the following:
Do not use similar username
Your profile information should be unique for each account
Avoid using the same or similar image as profile pictures
Your country flag must be different
Do not share the two accounts in the same social media account, and
Try to be dynamic.
Once you can avoid the above conditions, you're very close to buying reviews without issues. The next important thing you need to consider is how you would like to pay for the gig. If you have a functional PayPal account, you can use it to buy gigs; however it must not link to other Fiverr accounts. If you don't have a functional PayPal account, you can create a third account and deposit money into it. This is how to do it…
Create three accounts, say A, B, and C.
Use account A to buy gig from account C, and finally
Use Account C to buy gig from account B.
Don't worry about the circle and the amount of money you lose. Once you started getting sales, you won't have problem about purchasing reviews. Ask other sellers or buyers to buy your gig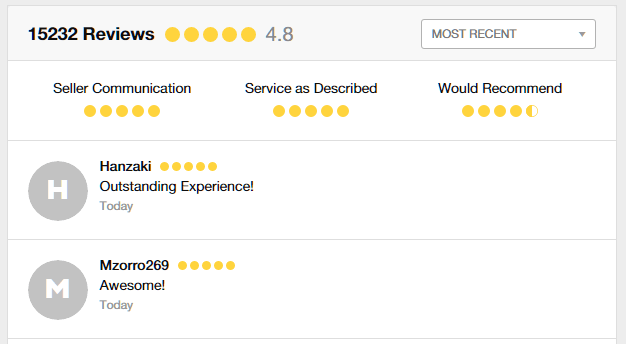 You can ask other sellers to buy your gig while you do the same for him/her. This works well if you have friends who are also working on Fiverr. However, if you don't have a friend who works on Fiverr, go join some Facebook group or internet marketing forum and look for people who are ready to do review exchange. I personally don't do this because some wicked people can use it to harm your account. If you prefer using this method to post reviews on your gig, make sure you don't exchange review with someone in your niche. For instance, if your gig is article writing, make sure you look for a seller in another niche. How to make your fake reviews look genuine Even if you follow the above techniques diligently, if you don't know how to write quality reviews, smart people will detect your game and they might report you to Fiverr. I have seen a lot of fake reviews on Fiverr, and I can easily tell if a seller is real or not. If you don't want people to doubt your reviews, make sure you…
Don't hype the gig
Don't show some forms of familiarity
Post reviews that are very neutral
Don't hype the seller.
Don't condemn other sellers
Don't write a lengthy review if you're posting the first review on the gig.
[et_bloom_inline optin_id=optin_1] You can follow the method below to post realistic reviews on your gigs…
Say something about the gig in a simpler way. For instance, if the gig in question is article writing, you can write something like "fast and well written content. I will contact you in a few days for another project".
Say something about the bonuses you get. For instance, you can say; Thumb up for the great work! I really appreciate the bonus material.
You can suggest some areas that need improvements. For instance, you can say; Great job! You really delivered beyond my expectation. Just a quick note, I would like for you to use fewer fonts in my next project.
These are the best ways to buy Fiverr reviews without running into problems. I hope you enjoy the reading. Warning! Purchasing fake reviews is completely against Fiverr "terms of service", and it can lead to your account being banned if detected. Apply these methods with caution, and don't abuse it. Remember, the publisher is not responsible for whatever happens to your account as a result of abuse.
Best regards!
[et_bloom_inline optin_id=optin_2]